№ 31 3 13
The situation on Sunday morning at two forty-nine am in a shadowy room. Putting the words to a tormented hymn. This is for the next album.
The night is silent, scent-less, dyed deep azure. My wooden vessels, rounded like gourds, have new strings. We make new harmonies.
№ 26 3 13
Some time ago the good people at Underscore magazine had put out a huge anthology of leading creatives in Singapore working in various disciplines – architecture, fashion, design, music. We're really honoured to be part of the book as ASPIDISTRAFLY.
Thank you for the feature!
Get more information here.
№ 24 3 13
Phillipe Garrel's films are largely responsible for the inspiration behind my music. These are from "Athanor" made in 1972. The long-haired girl with the crystal ball is Nico.
№ 21 3 13
Wwwarm day. A crazy bad sync rainbow visited for awhile. Walls and books are in torture.
№ 17 3 13
№ 17 3 13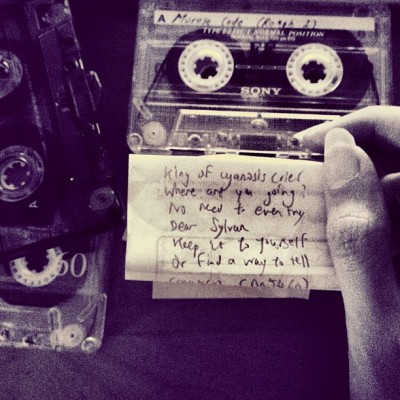 What a terribly strange feeling to dig into old belongings and archives only to find a lost piece of yourself in a dusty heap of memoirs… almost like looking into a stranger's closet.
On some nights i get these random spurts of wanting to annihilate every item that has been hidden away for a long time, no longer usable or relevant to who i presently am. And so it was such a night, when i got myself up a very high chair to reach the tallest cabinet in my room and retrieved objects that i had forgotten ever existed. I found old letters from a special friend who used to draw and write me poetry through the mail. We had lived in relatively close proximity back then, and occasionally explored the neighbourhood together, playing pranks on the local police post. I found my own poetry – words that i don't remember stringing together at all.
And then a shoebox of cassette tapes, and sheets of haphazardly scribbled lyrics show up. Popping the tapes into a player one by one, i uncovered the horrors of my fifteen year old sound world. It sounded alien and familiar at the same time. Was that really me? I felt caught in a warped vortex of time. The clear voice of a teenage girl that i heard in the tapes had already faded away with the passing years.
№ 15 3 13
Because everyone needs some aural healing.
This is my dosage in the mornings, when the day begins and the sun rays hit my eyes.
She's my girl.
Then at night, i shroud myself in within these shadowy walls.