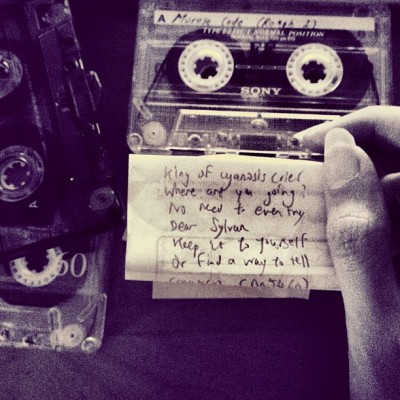 What a terribly strange feeling to dig into old belongings and archives only to find a lost piece of yourself in a dusty heap of memoirs… almost like looking into a stranger's closet.
On some nights i get these random spurts of wanting to annihilate every item that has been hidden away for a long time, no longer usable or relevant to who i presently am. And so it was such a night, when i got myself up a very high chair to reach the tallest cabinet in my room and retrieved objects that i had forgotten ever existed. I found old letters from a special friend who used to draw and write me poetry through the mail. We had lived in relatively close proximity back then, and occasionally explored the neighbourhood together, playing pranks on the local police post. I found my own poetry – words that i don't remember stringing together at all.
And then a shoebox of cassette tapes, and sheets of haphazardly scribbled lyrics show up. Popping the tapes into a player one by one, i uncovered the horrors of my fifteen year old sound world. It sounded alien and familiar at the same time. Was that really me? I felt caught in a warped vortex of time. The clear voice of a teenage girl that i heard in the tapes had already faded away with the passing years.